In-person programs have a Zoom option available, with the exception of some outdoor programs.

New Offering - Discussion about Awakening
Due to popular demand, our monthly Neuroscience and Meditation discussion, held on Thursday evening, is being expanded to include all topics, including awakening, and spiritual experiences.
Do you think you have had an opening or awakening of some type? Have you had a shift in your perception of the way the world is or how "you" are? Did you want a place to share these insights?
Join us for our monthly discussion. Thursday offerings Monthly Calendar
Meditation Practice and Dharma Talk
Opening Our Hearts to Ourselves
Thursday, May 25, on Zoom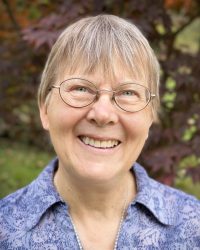 Many of us suffer from some form of unworthiness, and this comes up in meditation as well as in our lives. These mind habits can cause a lot of suffering, and make meditation more challenging. We will explore ways to disentangle from these views of ourselves, and open to compassion.
Taught by Kim Weeber, guiding teacher.
Join us on Zoom for a meditation practice at 7:00 PM, followed by a dharma talk at 7:35. 
There will be a short Q&A after the talk by Kim Weeber.
Suggested donation for evening is $8 – 20.  Please donate according to your means. 
Everyone is welcome to attend.
Letting Go of Difficulties - Class Series
Monday, May 15 – June 19
7:00 to 8:30 PM in person and on Zoom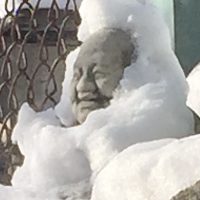 Mediation can incline our minds toward more peace and ease, but can also bring up difficulties. We will take a closer look at our meditation challenges through the Buddha's teaching of the hindrances, as well as the neuroscience of how our brains work.
We will explore these challenges through discussion and practice.
Everyone is welcome.

The class will be taught by Kim Weeber.
Suggested donation for class series is $100.  Please donate according to your means.  If you are able to donate more, this allows others with less means to attend.  
Everyone is welcome.
Your donations for events support our programs.
Additional support for the teachers can be offered here:
IMPORTANT – We will be practicing outdoors on Sunday mornings through the summer and fall. 
Watch the website in case we need to make changes. 
Outdoor meditation - Sangha gathering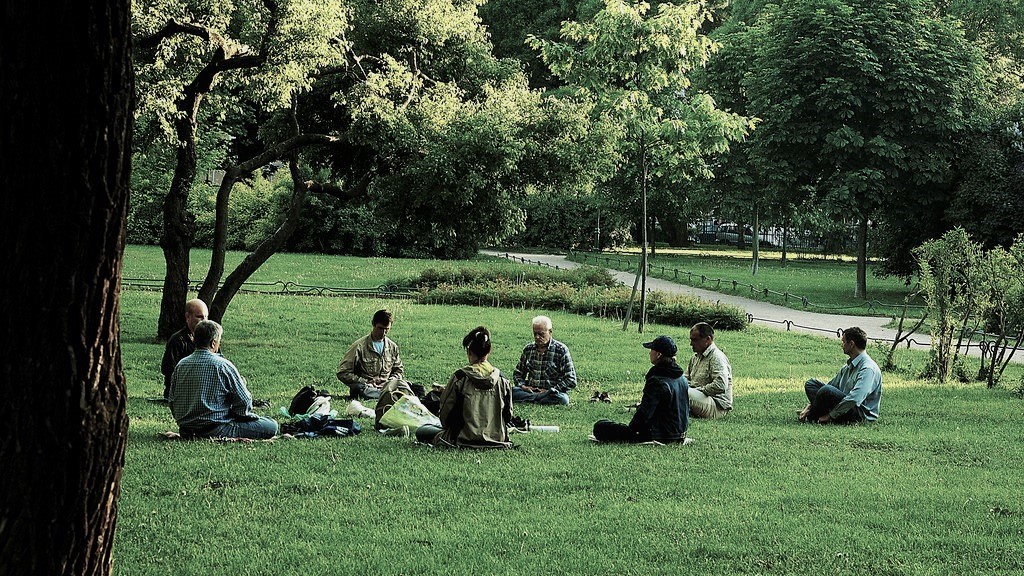 Meditation, Movement/Qigong, Discussion
Sunday mornings in Florence
8:30 – 9:30 AM
Afterwards, join us outside for tea or brunch at Miss Florence Diner at 9:45.
Led by Kim Weeber, Devin Ryder or Richard Baer.
Program details: 10 minutes of mindful movement of your choosing, and 30 minutes of meditation followed by dharma discussion.
Where to find us (map below): Meet at Florence bike path at intersection of Keyes St. and Depot Ave. behind Florence Savings bank. Bring something to sit on and bug repellent.
Look for our sign just beyond where the bike path crosses Keyes St. If you are coming from Main St. in Florence, turn right on the bike path. Walk along the path toward Northampton and look for us.
We ask people to maintain a safe distance for those with Covid concerns.
No need to register. Donations are appreciated.
CANCELLATIONS
In case of inclement weather, we will meet in person at 191 Main St Northampton.
We will post the change here by 7 AM.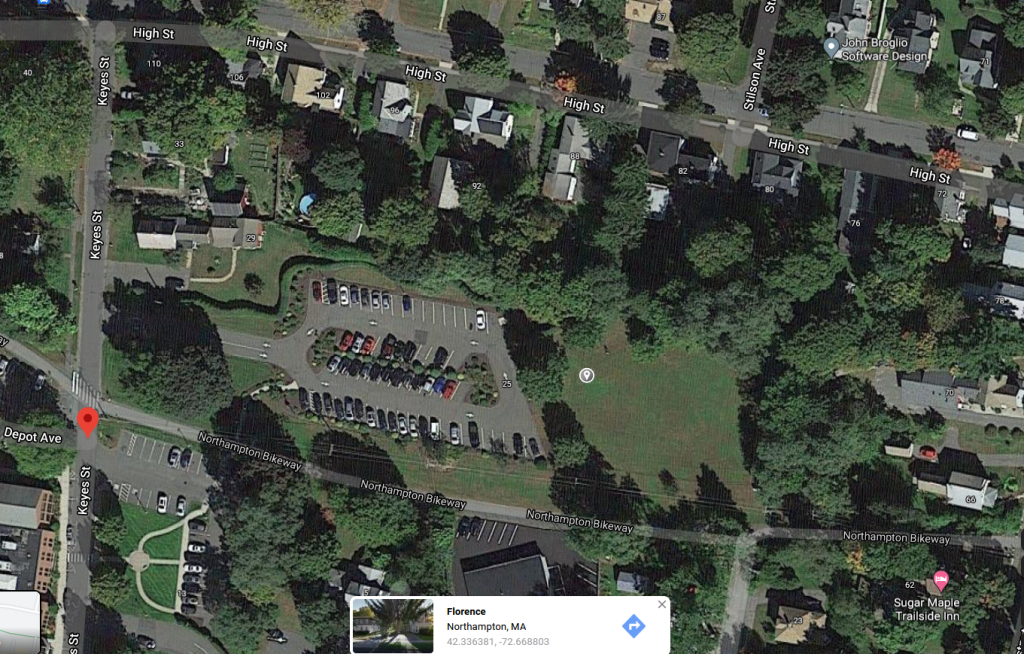 Look for us by the white marker here (red marker on the Google map) – in the grass field next to the parking lot.
Meditation donation.
Choose the specific meditation
from the drop down menu in PayPal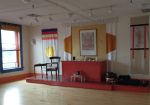 All are welcome to join the program.  
Arrive by 8:15 to help set up.
Zoom starts at 8:30.  Front door will be locked after program starts.  
8:30 to 9:30 – mindful movement, meditation and dharma discussion
9:30 to 9:45 – dharma tasks – put away for the next group
9:45 – Opportunity for outdoor tea/dining with other sangha members in the downtown area. (weather permitting) 
Please take a meditation class if you plan to attend regularly.
Led by Kim Weeber, Devin Ryder or Richard Baer.
Thursday evening meditation
Beginning at 7:00 PM (on Zoom only)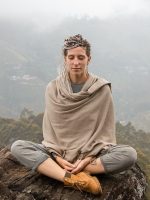 Silent or Group Awareness Meditation.
The program varies from week to week, but will always include meditation.  See Offerings Calendar for weekly details.
1. Qi gong or Thai hand meditation instructions usually given at 7:00.  Optional movement practice of your choice.  Followed by meditation for 45 minutes.
2. Meditation from 7:00 until 7:30, followed by a dharma talk.  
3. Meditation from 7:00 until 7:30 followed by a closed class.
4. Moving meditation at 7:00 followed by group awareness meditation.
All are welcome to join the meditation program.  Please attend a basic meditation class if you plan to attend regularly.
Led by Kim Weeber, Devin Ryder or Richard Baer.
Save the Date

- Franklin Country Pride Parade
Saturday, June 10
11:00 AM to 2:30 PM, in Greenfield, MA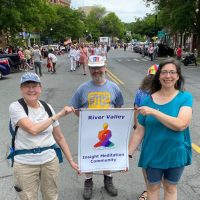 Everyone likes a parade, and you can march in one this summer!
We will participate in the Franklin County Pride Parade, along with other religious and civic organizations to show support for the LGBTQI+ community. All means of locomotion are welcome, including electric wheelchairs.
There is entertainment, music and food available at the rally at the end of the parade route.
Please join us in supporting our center. 
Everyone is welcome.
Held in person at 195 Federal Street Greenfield, MA